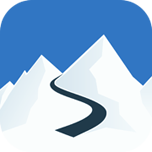 The next update to Slopes, planned to kick off this winter, with was originally going to be a normal-sized update (v1.6). After I shipped my Apple Watch update in the spring some awesome new ideas occurred to me, and those ideas were big enough to warrant a bump to 2.0.
The culmination of all this work since April is available now. You can try Slopes 2 for free in the App Store today. It's launching a little over two years after Slopes 1.0 launched.
So what's new? A lot, but I'd say there are three highlights:
New lifts & runs screen: I finally cracked this one. Slopes 1 had, in my opinion, the best breakdown screen of any tracker for winter sports, but I still wasn't happy with it. I wanted bigger maps and a better feel for how time was spent during the day.
The timeline scrubber idea hit me in June. A picture just doesn't do this idea justice.
The bottom part of the screen gives you a great feel for the chunks of time you spent on lifts/runs vs resting (or waiting in line), and the top part of the screen now sports a map that's 40% bigger than it was in version one. As you scroll the timeline, your location at that exact time is shown on the map, making it really easy to track where you went throughout the day.
New recording screens: I learned a lot about which stats really mattered while I was working on the Apple Watch app last winter. I took all those lessons learned and pulled them into the main iOS app.
The iOS app now sports live lift time vs run time breakdowns, live calorie data, and higher contrast designs to make sure it's as readable as possible in sunlight.
The start recording screen has been redesigned to highlight how much vertical you've grabbed so you can brag about that stat to your buddies and push yourself to new heights (pun intended).
Season Pass: I heard from a lot of people that being paid up front at $8 was preventing them from trying Slopes, even though they heard it was worth it from friends. I want Slopes to be the app every skier and snowboarder uses, regardless of whether they are a casual skier going once a year or an enthusiast going every weekend.
At the same time, I have some very ambitious plans for Slopes that will require a lot more of my time to implement and maintain, so I need to make sure it's bringing in enough to justify taking time off from consulting gigs.
I didn't want to have to release paid update for Slopes 2 or eventually 3, and charge everyone again by surprise. So Slopes 2 is free to download and try out. The Slopes Season Pass, an in-app yearly subscription, is available for people who want to get more out of Slopes.
How does the Season Pass work?
The first day you ski / snowboard every season you'll get detailed breakdowns (the timeline view from above, and the existing 3d replay view). After that first day you record you'll need to grab a Season Pass to keep seeing those breakdowns on new days. You'll always get the high-level summaries (lift vs run time, top speed, vertical for the day, etc) regardless of if you're a free user or Pass holder.
(Version 1 owners get unlimited breakdowns without a Pass since those features were available in some form before, when one had to pay to download the app. They won't be asked to pay again just to keep using features they already bought.)
This free option will be perfect for the large group of people who only make it to the mountains once a year with their family, or those just getting into the sport. For those that go more often, they'll want to grab a Season Pass. Pass holders don't just get the breakdowns unlocked: they also get awesome custom-designed terrain maps provided by MapBox (as seen in the above video) and even more live stats while recording.
That's just the beginning. More Pass-exclusive features are coming, like lift naming in 2.1. I'm working hard to build a very compelling set of unique features to make sure the Season Pass is worth it.
A Season Pass costs only $19.99 a year.
---
I'll be taking off from consulting this entire winter to keep big updates flowing. 2.0 is just the start, I have tons of great stuff planned!
In the meantime I hope you'll give Slopes 2 a download and tell your friends. I'm really proud of this release and I hope you enjoy it.